September 16, 2013
To Whom It May Concern,
My name is Dick Barker and l am the Director of Fixed Operations for Moran Chevrolet with locations in Clinton Township & Port Huron Michigan. Moran Chevrolet is recognized by G.M. as one of the top two Chevrolet Dealers in Michigan and a top ten Dealer in the Nation for new car sales and quality customer service. We pride ourselves on being a top Chevrolet Dealership because of our great staff and their personal commitment to the highest quality service to our customers. We are always looking for ideas to help our employees in making their jobs safer and more efficient. One of our employees introduced me to a new invention that his son in law had invented. The product is called The Ladder Grabber - Ladder Handle. It makes carrying any heavy fiberglass ladder safer and easier. Our maintenance staff has been using these ladder handles on all of our ladders for months. All of them will not carry a ladder without The Ladder Grabber! l would recommend The Ladder Grabber from Handsaver Handles LLC to everyone that uses a fiberglass ladder both personally and professionally!
Sincerely,
Dick Barker
Director of Fixed Operations
Clinton Township - (586) 741-4932
Fort Gratiot - (810) 990-1018
www.moranchevy.com
---
---

Bill,

Everybody seems to really like the handles. They have said it really makes it easier to carry the ladder long distances. Thanks for a great product!
Thank you,
Jason Kruep
Branch Manager

Branch 116, St.Louis
390 Fee Fee Rd.
Maryland Heights, MO 63043


---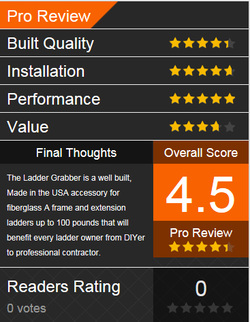 Check out this great review we received from ProToolReviews.com. We sent them our handles for an unbiased review and that's exactly what we got. We'd like to thank Kenny Koehler and all the good folks over at Pro Tool Reviews for taking the time to review our product.
Here's just some of the review:
"Why didn't they think of this sooner?" That's the headline on a
press release
talking about the Ladder Grabber from Handsaver Handles, LLC, a Michigan based company. Bill Bachorski, inventor of the Ladder Grabber, contacted me about his product. I was initially a little skeptical, but the idea had a lot of merit. When the Ladder Grabber AFF (A Frame Fiberglass) and Ladder Grabber EXT (Extension) showed up, what they actually grabbed was my attention.
What I thought could possibly be a gimmick tool destined for late night infomercials turned out to be an accessory that actually looked pretty well built. Its simple, yet durable stainless steel construction gave me reason to dig deeper. What did I find? Read on, my friends.
<CLICK HERER TO SEE THE ENTIRE REVIEW>
---
Do You Have a Testimonial to Share with us?

Please click the contact us button and let us know. We'd love to hear from you.



---